01 Feb 2019 | YOGA & MEDITATION RETREAT-INDIA
Where: RISHIKESH, India
Presented by: PATANJALI INTERNATIONAL YOGA FOUNDATION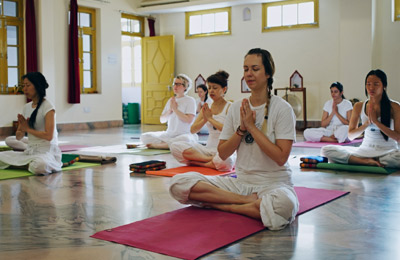 Starting from 01-14 Febraury 2019 Yoga Meditation Retreat course at Patanjali international yoga foundation Rishikesh India, learn many techniques of yoga and meditation to strengthen and clear the mind. We will use these techniques in all aspects of Yoga; Asana, Pranayama, Bandhas, Kriyas and more. In the theory class, we will discuss the philosophy behind these methods and how it can be useful in the modern lifestyle.
Experience how meditation can be medicine for the mind. Naturally, this increase in popularity for wellness retreats can directly, or perhaps indirectly, be attributed to the rise of interest in yoga and meditation practices and retreats worldwide. At yoga foundation during Yoga meditation retreats include deliciously healthy meals, which help to keep your health and well-being to a whole new level while expanding your food horizon.
Traditionally, yoga's main purpose is to still the body and mind. Whilst our yoga retreats are set in breath-taking surroundings which in themselves promise to have a life-affirming effect on your soul. The meaning of re-treat is a period of group withdrawal for prayer, meditation, or study, so PIYF offers prayer, practice, study, meditation, mantra, mudra, Ayurveda food, excursion and much more.
Learn the benefits of meditation for students, meditation techniques, effects of meditation on the mind, health benefits of meditation, spiritual benefits of meditation and numerous other benefits of meditation. There are many benefits to silent meditation retreats, including expanded creativity, peacefulness, and self-realization, among others.